Topics
A special online seminar on global understanding by NITKC alumni was held
2022/03/24
On Thursday, January 13, 2022, NITKC hosted a special online seminar on global understanding called "professional life working as a member of society after study abroad: the experience through Tobitate! (Leap for Tomorrow) Study Abroad Initiative" featuring NITKC alumni Mr. Shohei Ohno and Mr. Motoi Miyake (currently both work at Swing Engineering Corporation), chosen to take part in the Tobitate! program and studying in Indonesia and Costa Rica, respectively, while students (Advanced Course), as guest speakers. 
Mr. Ohno, who studied in Indonesia, talked about how he became interested in overseas study and took steps to apply for the "Tobitate (Leap for tomorrow)! Program," starting first with participating in short-term study abroad tours to gain overseas experiences. He added that his studying abroad experience has given him strength and significantly impacted how he handles his work in his current workplace.
Mr. Miyake, who studied in Costa Rica, started to tell students his story about how he accomplished his vague idea of studying abroad for real. Then he continued regarding how he improved his Spanish to the level of giving a presentation in Spanish after struggling with the language barrier and how he succeeded in returning to Costa Rica for his research by finding a TAU Scholarship and winning it. Mr. Miyake stated that his study abroad experiences developed a strong sense of initiative: every time he makes a decision, he does not hesitate to act on it. This has formed the foundation for his success both in and outside of his job.
At the seminar, participating students were actively involved, asking questions about preparing applications and interviews. We believe that this seminar encouraged students to potentially pursue the same challenge in the future.
The seminar has been recorded and is available for students who could not participate live.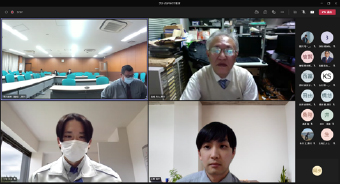 Student asking questions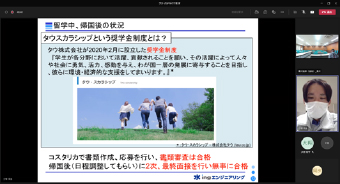 Mr. Motoi Miyake talking at seminar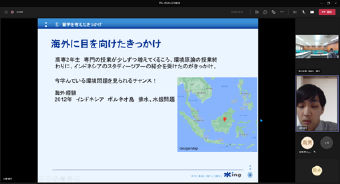 Mr. Shohei Ohno talking at seminar