Topics
NITKC International Exchange Student received the Best Essay Award at the 17th Japanese Essay Contest for International Students, Interns, and Trainees
2022/03/24
On Friday, March 5, 2021, the 17th Japanese Essay Contest for International Students, Interns, and Trainees Award Ceremony was held in the Kagawa University Global Café. Ms. Enkh, a fifth-year student in the Department of Civil Engineering at the Takamatsu Campus, received the Best Essay Award selected from among the 14 entries from four higher education institutions, including a university, a junior college, a vocational school, and the National Institute of Technology in Kagawa.
"Studying Abroad under a New Way of Life" as the given essay topic, Ms. Enkh wrote her essay titled "Experiencing the COVID-19 disaster," in polite and frank Japanese. In her essay, she described what she thought about attending classes online and what she experienced at a store during the period when masks were in short supply.
Her work was highly praised by the three judges. At a first glance, the text was so well-written that it could have been mistaken as coming from a native Japanese writer.
At the award ceremony, Ms. Enkh received a certificate of commendation and a scholarship from the Kagawa International Council for International Students and Others, followed by her reading of the awarded essay aloud.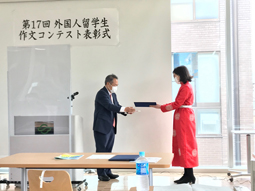 Award ceremony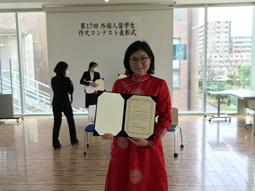 Award ceremony